We are so thrilled to share a bit of our lives with you!
We met in 2007 through a mutual friend in college and immediately bonded over a shared sense of humor. A few years after moving to New York in 2008, we began dating, and have been together for eight years and married for four! Even in the early years of dating, we knew we wanted to be parents. We both love kids and can definitely be found at family events playing on the floor with little ones instead of talking with the other adults. Once our conversation about starting a family became more serious, adoption felt like the perfect route for us. We currently live on the Upper West Side of Manhattan, and absolutely love our apartment and neighborhood. There are museums, theaters, restaurants, and parks and playgrounds galore!
---
About Alan
Job Description
Assistant Director of Major Gifts at the Metropolitan Opera
Hobbies
Reading, theatre, film and television, working out
Fun Fact
Alan has seen in a show in every single Broadway theatre in NYC, 41 in total!
---
About Alan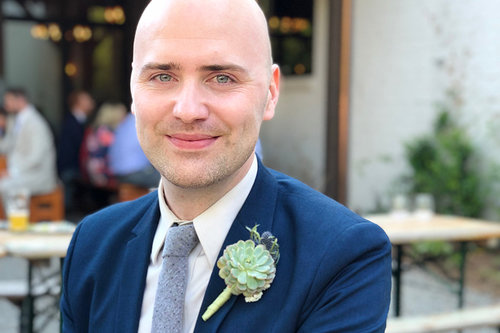 Job Description
Manager of Creative Services of Disney on Broadway
Hobbies
Running, creating iconic cookies, and eating popcorn
Fun Fact
Eric co-wrote and illustrated the first-ever children's book for Mozambique called Mr Rabbit and the Well
---
Our Lives
Our lives together are so full of laughter and love because we genuinely enjoy the same things and are endlessly entertained by each other. We both love theatre, movies, and game nights with close friends. Whenever we can, we're visiting family to be with our niece, nephews, parents, and siblings. We're both so lucky to love our careers, and that our jobs allow us the flexibility and time away to rest and be with our favorite people. We are so ready and excited to share our lives with your child, who will be undoubtedly be yet another source of joy and laughter!
---
Our Family
We are both so lucky to be extremely close to our families. Alan's parents live in Ohio, and his older sister, brother-in-law, and two nephews (Liam, age 4, and Ethan, age 2) live in Charleston, South Carolina. Eric's family also lives in Ohio, including parents, two sisters and their spouses, and our niece (Olivia, age 3). As you can probably tell from these photos, our niece and nephews are some of our favorite people! With out family living out of state, we're doubly lucky to have a New York family of close friends, who provide non-stop love, support, and humor.
---
Final Thoughts
"We're so grateful to be able to give you a small look into our lives, and we sincerely hope to have the opportunity to get to know you as well! We couldn't be more excited to start our family with your help."
– Eric & Alan