David and Neil are a loving, fun and creative couple who love the arts. So much so, that David proposed to Neil at the Metropolitan Museum of Art. We've been together for 15 years and have been married for nine. We own a cozy home in Jersey City, NJ (minutes from NYC) where we live with our two loving cats Lindo and Pumpkin.
We enjoy going to the movies, attending art shows, seeing Broadway performances, ordering takeout and watching Netflix, or visiting anyone of our five God Children. We love to travel and have been to Puerto Rico, Canada, Spain, Hawaii and Amsterdam.
Between Neil's history teaching dance and working with families at the Jersey City Housing Authority and David working at the Children's Museum of Manhattan, we have always found ourselves caring for and supporting children. For years we've had dreams of having our own and are excited to begin this journey today.
---
About David
Job Description
Visual artist, as well as the Director of Public Programs, Children's Museum of Manhattan
Hobbies
Attending art shows and museum exhibits, watching cartoons, going to the movies, seeing dance performances, and taking long walks
Fun Fact
I was recently awarded the opportunity to create a permanent public artwork for the New York Public Library set to open in 2020
---
About Neil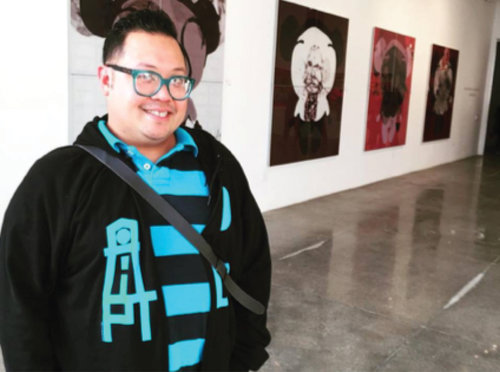 Job Description
Assistant Asset Manager, Jersey City Housing Authority
Hobbies
Taking dance and Zumba classes, going to the gym, making collages and paintings, attending art shows and museum exhibits, seeing dance and Broadway shows, shopping, and collecting and listening to music
Fun Fact
I choreographed dances for the Village People and their song "You Can't Stop the Music" for their concert tour. I also performed in two off Broadway musicals, A Chorus Line and Joseph and his Amazing Technicolor Dreamcoat
---
Our Lives
Neil and David's life are a mix of calm and adventure. We see family at least once of month if not more, with visits to Neil's parents' in Jersey City and visits to David's parents, sisters and their kids in New York. Most of the time we like spending a nice calm evening with our cats, Lindo and Pumpkin, who never deny our many hugs and kisses.
Adventure often arises through David's work as an artist, completing exhibitions and Neil's work as a board member of a ballet company—helping them in their latest production. All the spaces we work in are child and family friendly and we look forward to raising our child with an appreciation of learning and loving through the arts.
---
Our Family
David is the youngest of five siblings, three girls and two boys. His three sisters have eight sons between them and David grew up very close to them as they were only years apart. Neil's extended family of close friends and god children add to his immediate family of his parents and brother. We have eight god children between us.
Between David's siblings and Neil's extended family we are often together for major holidays like Thanksgiving and Christmas, as well as birthdays and anniversaries.
---
Final Thoughts
"We are extremely excited to begin our family and look forward to welcoming a little one into our home. Thank you for taking the time to view our profile. We hope you enjoyed getting to know our family."
-David and Neil