Hello and thank you for reading our profile! We met eight years ago in London, where we were both living at the time, when we bumped into each other at a friend's party; we ended up talking that whole night and the rest, as they say, is history! Sara is originally from Italy, David is from California and we fell in love sharing our stories and discovering our common belief in the importance of family, education, and living a life filled with love, adventure and homemade Italian pesto! We have been married and living in New York for five years and have found our home in Tribeca, a vibrant neighborhood in Manhattan full of parks, a great farmer's market and miles of running and biking trails that we love to explore along the Hudson River. We are excited to welcome a baby in our family through adoption and sharing our journey of love, adventure and joy for life. Thank you for taking the time to learn more about us!
---
About David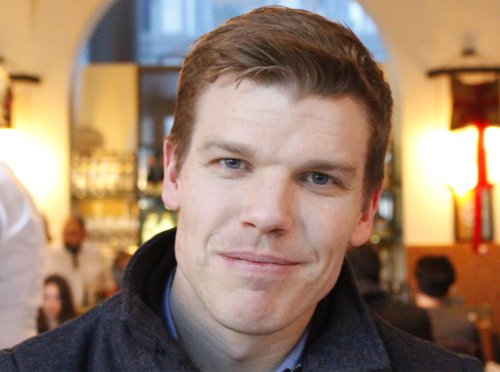 Job Description
Real estate investor at a private equity firm
Hobbies
I enjoy playing golf, cooking, skiing, reading, hiking, yoga and trying to learn Italian 😉
Fun Fact
I'm training for a triathlon with my brother!
---
About Sara
Job Description
Strategic finance for Etsy, an online website which provides a creative platform for entrepreneurs, especially women and minorities
Hobbies
I like to practice yoga, love art & architecture, try my best to replicate my mom's recipes, and am fascinated by travel and learning about new cultures. I've always enjoyed learning new languages; so far I speak Italian, English, Spanish and a bit of German… but I am on a mission to learn more!
Fun Fact
When I was very young, I was a semi-professional gymnast and I would spend more time standing on my hands than standing on my feet!
---
Our Lives
We live an active life that is centered around family and friends, with plenty of time for relaxing, cooking and exploring the city together. Weekends typically start with David's special banana pancakes or smoothies before a yoga class or run, meeting friends (including lots of babies!) for lunch, FaceTime calls with the family in Italy, followed by grocery shopping for dinner and the following week. We love to attend events around the city, ranging from art exhibitions to food festivals to guest lectures and to find new inspiration.
---
Our Family
We both have loving and supportive families that we see frequently. David's family is in California and Sara's family is in Italy, but we manage to see each other many times throughout the year, and make it a priority to spend time together. We have many nieces and nephews across both sides of the family, all of whom are thrilled about having a new cousin! In Italy, we love to visit the beaches near Sara's family, eat fresh seafood and visit the extended family. In California, we love to play in the annual Thanksgiving family soccer game, camp in the mountains, and see friends and family at Stanford football tailgate parties.
---
Final Thoughts
"We appreciate you taking the time to learn a little bit about us and would be honored to meet with you as you consider this important decision. The child will be the center of our lives and we will always do our best to provide an environment that is safe, loving and supportive. While this path is new for us, we are approaching each step with open hearts and minds and we wish the best for you and the child."
-David and Sara